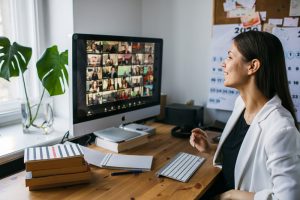 Like running any brick and mortar office, managing your employees remotely comes with its fair share of challenges. But where there are difficulties, there is also a learning opportunity.
With the continued spread of COVID-19, there's no certain end to social distancing measures, and employees likely won't be returning to physical offices in the foreseeable future. So with that in mind, how can office management adapt its strategies to manage their remote workforces most effectively?
Here are a few ideas:
1.     Set Goals and Expectations
With so much uncertainty, employees benefit from a sense of stability and structure. Be sure to layout your policies, expectations, timelines, and goals in detail. There may be some confusion due to the abrupt switch from office to remote work, so it's your responsibility to set things straight.
Make it very clear when your workforce is expected to be online, and for how long. What is your policy for handling tasks and/or communications outside of regular working hours? How will meetings and other necessary team interactions be conducted? How will you prioritize action items, and how will daily bulletins be distributed to your workforce? Answering these questions and others is critical in order to optimize productivity.
2.     Empower Your Employees
Make sure that your team is equipped with the knowledge, materials, and processes they need to do their work effectively. Giving your employees the right tools will help them get the job done to the best of their abilities. Beyond that, trust that your team is capable of handling what you give them. While it's important that you lay the groundwork for success, empower your employees with the belief that they can accomplish what's set before them. After all, they were hired because of their skills! Just set them in the right direction and watch them go.
3.     Make Productivity Tangible
Productivity and project management software is an excellent approach to maintaining remote workforce efficiency. Not only can these tools help you identify those who may be slacking and need encouragement, but it can also allow you to recognize those who work hard and produce good results. Whatever the data shows, it enables you to take managerial action, supporting those who need it, and rewarding exceptional performers.
4.     Keep Everyone Connected
Isolation can be a huge motivation killer. While shelter-in-place orders may be coming to an end, social distancing isn't going anywhere. Your employees may be suffering mental and emotional distress from lack of connection, so make sure that your remote office is a welcoming place for them.
Connections could come in the form of happy hour Zoom meetings, one-on-one check-ins, or even just a simple, "Good morning, everyone." Celebrate wins and personal milestones alike; acknowledging successes helps boost morale. Let your employees know that they are cared for and valued. It won't solve all their problems, but you might be surprised at how meaningful the little things can be.
Lead your team with clarity, integrity, patience, and compassion. Your employees will thank you for it. As always, if you're looking for business support or inspiration during this time, we're always here to help. Reach out today!